Hikers Shangri-La at Nuk Tessli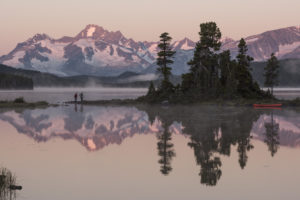 A rejuvenating and restorative retreat into the heart of the Coast Mountains, Nuk Tessli is nestled on the shores of a high altitude alpine lake in the midst of a protective pine forest. For the naturalist minded hiker, this gem in the Chilcotin is the gateway to an intricate and unique trail system through the Coast Mountains renowned for their tranquil and remote landscapes. Whether you crave a self-guided outdoor experience, or a guided tour through the many different alpine trail systems, there is no shortage of opportunity to revel in as much of this secluded haven as possible. Guests can expect to enjoy open access to all trails, canoeing on multiple high-altitude and glacier-fed lakes, and guided tour packages. With three fully equipped log cabins, a rustic hot tub and a cookhouse on site, guests can always expect a warm Chilcotin welcome at the fire and a hot meal upon return.
Sela Bucovetsky
Nuk Tessli Wilderness Experience
nuktessli@gmail.com
www.nuktessli.com
A New Luxury That's Truly Wild
New to Maple Leaf Adventures, a luxury expedition ship, the Cascadia opens the experience of BC's Great Bear rainforest to a new, upscale adventure traveller. Designed specifically for expedition cruises, this 138-foot catamaran provides luxurious accommodations for up to 22 guests, while being able to travel to the wildest, most naturally rich places on the coast. Its spacious cabins and salon, and its beautiful, open-air aft deck lounge are unlike any other vessel on BC's Great Bear Sea. The vessel's small size and small guest numbers provide an authentic, human scale experience that respects the carrying capacity of coastal inlets and communities. Selected for Canada's "Signature Experiences Collection" by Destination Canada, Maple Leaf Adventures has provided eco-focused, big adventures since 1986. Cascadia is staffed by local experts who are passionate about the extraordinary environment they operate in; they are mariners, naturalists, community leaders, guides and chefs.
Maureen Gordon
Maple Leaf Adventures
maureen@mapleleafadventures.com
1-250-386-7245
www.mapleleafadventures.com
East meets West and creates Magic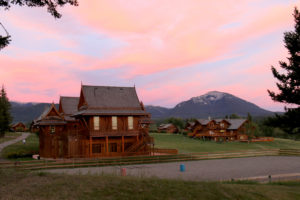 This Canadian Signature Experience signifies the uniqueness of Echo Valley Ranch. You can feel it and see it when you arrive, it's the balance of East and West and the celebration of both cultures are palpable through so many facets of life at the resort: it's the intercultural team that comes together to make your vacation experience memorable; it's the buildings which create an effortless transition between rustic Wild West log buildings and Eastern elegance and it's the Thai and Western spa treatments that work their magic for body and soul. The Baan Thai overlooks the whole resort and its spectacular vistas, and is a showcase of traditional Thai architecture. Their guests enjoy a pure, traditional Thai Spa experience in its Sabai Sabai Suite. Come and visit Echo Valley Ranch & Spa and experience for yourself how Western Riding and Thai Massage can create a truly blissful experience.
Kerstin Auer
Echo Valley Ranch & Spa
Kerstin@evranch.com
1.800.253.8831
www.evranch.com
The Wild Within you at Nimmo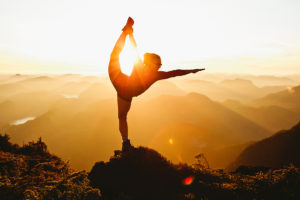 "The Wild Within", a wellness getaway hosted by Nimmo Bay Wilderness Resort. Nimmo Bay has long been a destination for travellers seeking to relax and recharge in the wilderness while breaking away from the speed and demands of daily life. Now, our experienced guides and teachers are taking you on a journey inward with guided introspection, mindful outdoor pursuits, and neuro-muscular fitness classes. 'The Wild Within' wellness getaway is designed to challenge you to connect with yourself and your surroundings in a mindful approach. Here you will be wonderfully immersed in the coastal rainforest of BC, with our gorgeous and comfortable accommodations, a nourishing and inspiring menu, transforming spa treatments, and exclusive activities designed to bring your mind and body into balance. Nimmo Bay Wilderness Resort provides a purposeful space for you to refresh, reflect and slow down to the rhythm of nature.
Nimmo Bay Resort
Jenny Jewczyk
Nimmo Bay Wilderness Resort
jenny@nimmobay.com
1-800-837-4354
www.nimmobay.com
Après in the Lap of Luxury at Silvertip Lodge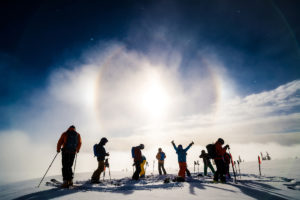 Boasting "Bespoke Wilderness Adventures", this luxurious mountain lodge is set on the shores of the Earth's deepest fjord lake, in North America's only inland temperate rainforest. Silvertip offers a dream home away from home experience for all guests who travel to their lodge in the remote interior of BC. Without road access, visitors travel by small aircraft, helicopter, or boat to the east end of Quesnel Lake, where the lodge overlooks the grandeur of the deep waters juxtaposed against the majesty of the Cariboo Mountains. In the summer, Silvertip offers excellent fresh water fishing, attracting anglers from around the globe, while in the winter; it provides an incredible heli-skiing experience. After a full day of experiencing all the outdoor wonders this private and luxurious retreat is a gateway to, guests will return to the main lodge and enjoy renowned chefs, savoury dining, and an array of spa services.
Isabelle Thibeault
Silvertip Lodge and Heliskiing
isabelle@silvertipheliskiing.com
250-344-3508
www.silvertipheliskiing.com
Sail on the Northern Sea Wolf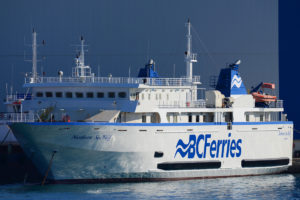 Journey on BC Ferries new "Northern Sea Wolf" through the Great Bear Rainforest. The 150 passenger, 35 vehicle vessel starts providing direct summer service June 19th. Revered for their dedication to their packs, the Sea Wolf is believed to be a manifestation of the Orca and has come to symbolize family and loyalty in Indigenous culture. Today, it is said that the spirit of the Sea Wolf protects those traveling their oceans. And now you can explore the natural beauty of their habitat, by stepping into a world of rugged glacial fjords, towering old-growth rainforests and rich Indigenous history. Through picturesque waters of the Inside Passage, home to sea lions and humpback whales, your journey will take you 10 hours north from Port Hardy through the heart of the Great Bear Rainforest to Bella Coola. For those among us who love road trips, this route links most excellent circle routes.
Tessa Humphries
British Columbia Ferry Services Inc.
tessa.humphries@bcferries.com
250-978-2069
www.bcferries.com/NorthernSeaWolf
The Flying U Ranch
Located in the Cariboo region of British Columbia, the Flying U was established in 1849 and has been in operation for 167 years! We believe this makes the Flying U Canada's oldest continually running ranch. A major trail used by the Fur Brigade is the same trail guests use to ride out on today. The ranch slowly evolved into a working cattle ranch and by the early 1900s a legendary, colourful character, Jack Boyd, took over operations. He was to change the course of the ranch forever. Jack Boyd was a member of the family that founded the Flying U Ranch, and he developed a reputation as a maverick that spread from Western Canada to points all over the world. Jack was a champion rodeo cowboy, who loved to entertain people and tell tall tales of his card playing, dangerous exploits and other adventures. His good friend, Tom Mix was a cowboy Hollywood star. With the financial backing and ideas of Tom Mix, combined with Jack's larger than life personality, the Flying U Guest Ranch was born. It became the first guest ranch in Canada. Guests today sleep in the same cabins, answer to the same meal bell, relax in the saloon and ride on the same trails. On a quiet summers afternoon as you ride along the trail you might imagine the spirit of Jack Boyd riding beside you.
John Lovelace Flying U Ranch
reservations@flyingu.com
1.250.456.7717
www.flyingu.com  
West Sport Fishing – King Pacific Lodge
There is no other British Columbia fishing lodge which compares to WEST. WEST Sport Fishing's "King Pacific Lodge" at Milbanke Sound is a BC salmon lodge company created as a testament to the friendship of the many anglers and friends George and Lisa Cuthbert have come to know over the past twenty-five years. We are a family operated business and our interest in exceeding guest's expectations goes beyond a corporate objective. As owners, we're on site, engaged and are sincerely committed to our guests experience. Your time and money is valuable and we respect both! If you've been searching for the absolute best Chinook and Coho salmon fishing trip, in the most spectacular setting and with the highest degree of personalized service…
Variety of packages:
Self Guided: Self-Guided anglers will be assisted by our "Fish Master" whose time will be dedicated to your success. Look forward to on water assistance, dock instruction and evening seminars featuring everything you need to know to catch your trophy!
Instructed: All Instructed anglers receive 5 hours of on-water fishing instruction each full day of their trip. We'll have you up and running each day and you're free to come and go all other times. You can do it!
Fully Guided: All Fully-Guided anglers receive 10 hours of our guides undivided attention to detail. Sit back, relax and let us look after you!
George & Lisa Cuthbert
george@westsportfishing.com
604-503-5474
www.kingpacificlodge.com  
Great Bear Rainforest Photography Tour
Encompassing 64,000 square kilometres, Canada's Great Bear Rainforest is the largest track of intact coastal temperate rainforest in the world. Grizzly bear and black bears, including the rare white Spirit Bear – a genetic variation of the black bear found nowhere else on the Planet – roam wild here as they have for Millennia. With giant Sitka Spruce and Western Red Cedar trees frequently exceeding 1000 years old, these ancient forests support more biomass than any other terrestrial ecosystem in the world. The forests, fiords, valleys, estuaries, islands, and mountain slopes of the Great Bear all combine to create a complex web of species diversity – bears, wolves, cougars, goats, salmon, deer, eagles, ravens, and millions of migrating water foul – to name a few. Only recently known as the Great Bear Rainforest, the 27 indigenous First Nations whose traditional territories are located here have lived here for more than 10,000 years. During our 2016 Great Bear Rainforest Photography Tour our group of 6 participants and 4 crew will explore this magical region from the luxury of the schooner Passing Cloud. We expect a focus on bears, whales, wolves, and other charismatic megafauna, however, we'll also spend time thinking about and photographing the interconnectedness of the Great Bear, from landscapes and sunsets, to wildflowers and waterfalls. We'll spend 1 day in bear viewing stands where we hope to catch a glimpse of the iconic Spirit bear.
Russell Markel, PhD Captain
EDO OuterShores Expeditions
russell@outershores.ca
250 667 0554
www.outershores.ca/great-bear-rainforest  
Ecotours – BC – Grizzly Valley, Spirit of the Mountains
The Quesnel Lake watershed in the Cariboo is home to a number of big bears. As you pass quietly through lush boreal forests on your way to another world of alpine heights. Listen to the wilderness, the mountains and the forests – hear them speak to your soul as your adventure unfolds. Hear the creeks and streams tumbling down the mountainsides voicing the pure ancient wisdom of Mother Nature. Hear the multitudes of birds singing and chirping, the scurrying of small creatures, the voice of the wind sighing through the trees or just listen to the golden silence in alpine meadows surrounded by nature's palette of colorful flowers and plant life. Feel the winds as they swirl around the mountain peaks. Travel among the wildlife observing grizzlies, mountain goats, mountain caribou, wolves, black bear and moose in their natural wild habitat. This trekking experience is a unique learning experience with insights into the very soul of Canada's most unique features. Come and challenge your outdoor skills and your sense of adventure
"The Bear Whisperer" We are an iconic nature destination – uncrowded – only tracks we see from year to year are the bears and Gary's in the back country. Rare interior rainforest. Huge wilderness area anchored by red listed Mountain Caribou herd. The majority of the area is a Mountain Caribou protected area which also makes it a good area for grizzlies as they are undisturbed. Backcountry and alpine that is nothing short of amazing. Authentic wilderness experience. Bear Whisperer Reality Show. Unique methodology in observing grizzlies. No one else walks a boat down a salmon spawning river among the grizzlies. No viewing platforms. Natural bear/wildlife viewing. Bears are unhabituated. Gary's experience and knowledge of the bears, habitat and habits. Unique character. The only ones, as far as we know, that do what we do with grizzly bears. Canadian Signature Experience.
Peggy & Gary Zorn Ecotours-
Likely BC
adventure@ecotours-bc.com
250 790 2292
www.ecotours-bc.com/spirit-of-the-mountains  
Tweedsmuir Air – Fly into a Paddlers Dream, the Turner Lake Chain
A unique and beautiful paddling route awaits you, perched at 3,500 feet on the eastern edge of Tweedsmuir Provincial Park, stretches a chain of lakes which flow into Turner Lake and ultimately over 1,000 foot Hunlen Falls. Hunlen Falls is the 3rd tallest waterfall in Canada. This magnificent waterfall cascades from the north end of Turner Lake over a rugged granite precipice to rumble further on and down to Lonesome Lake below. Hunlen Falls are a short 20 minutes by air west of Nimpo Lake. Anticipation builds as you approach the Atnarko rivershed, flying over Lonesome Lake… the falls remain 'hidden' behind a bluff on the eastern side of a huge chasm worn by centuries of snowmelt running off mountains that surround the Turner Lake Chain and that's just the beginning of your adventure! Or if you are just too busy and just passing through on assignment – Stewart's Lodge on Nimpo Lake is the perfect destination to take a break from the freedom highway and experience some of the very best the West Chilcotin has to offer. Aside from great lakeside accommodation, you are within easy flying distance to outdoor adventure that abounds in the vicinity of Tweedsmuir Provincial Park…, Rainbow Mountains, Monarch Icefields, Mackenzie Grease Trail, countless lakes and streams with ample WILD trout… and much more!
Duncan Stewart
Tweedsmuir Air Services
Nimpo Lake BC
fly@TweedsmuirAir.com
250 742 3388
www.tweedsmuirair.com/adventures    
Bella Coola Heli Sports – Heli Assisted Ski Touring… or…. Go steep, Really Steep!
Ski Touring with Helicopter Support: Discover the beautiful Bella Coola Mountains by using both helicopters and your "low speed" quads. Our Heli Assisted Ski Touring program is the perfect hybrid of Alpine Touring and Helicopter Skiing: more exploration and freedom than touring, and more economical than traditional heli skiing. Trip Highlights: Heli drop first thing in the morning for a warm up run first thing in the morning. Ski and tour in a different area every day enjoying the varied views. Stay in a comfortable lodge at night with superb food and massages. Enjoy the serenity of the beautiful and rugged mountains surrounding Bella Coola while getting exercise. Experts Only Heli-Skiing: Arguably the Steepest Guest Heli-Skiing in Canada & the Best Alternative to Heli-Skiing Alaska. Whether it's couloirs, big faces or steep lines, Bella Coola is the ideal place to push your envelope. The terrain is impressive, as showcased in any number of ski movies, and the snowpack is on average more stable than most anywhere else in the world. Trip Highlights: Ski the most challenging steep terrain in Canada. Enjoy heli-accessed warm-up runs before hitting the bigger slopes. Small, cohesive groups of skiers with two or more guides. Learn and practice basic ski mountaineering skills including "slough management", rappelling, glacier travel, rope ascending and others.
Beat Steiner
Bella Coola Heli Sports
info@bellacoolahelisport.com
604 932 3000
http://www.bellacoolaheliskiing.com/Touring
http://www.bellacoolaheliskiing.com/Steep  
Ski — Hut to Hut on the Bowron Lakes
During your four days on the Bowron Lakes chain the mountains look fabulous all dressed in their snowy mantle. You will ski over the snowy portages and down the frozen lakes. Your guide takes you safely through the best terrain and spectacular scenery. Each night you arrive in a snug cabin with a stove, by day you travel in whatever weather nature sends and your guide ensures that you have the best gear to keep you warm and comfortable as possible. The lakes are beautifully desolate this time of year. However, all the wild animals leave their story to be interpreted. Otters drag deep trenches with their bellies through the snow, moose wander through the forests and across the lakes, wolves take advantage of the light snow cover on the lakes to travel extensively around the chain. These animals, and more, leave their tracks to be read like a book by you and your guide. In the evening, relax on your bunk by the fire, go for a moonlight ski, enjoy the brilliance of the star-filled sky or perhaps enjoy the Northern Lights. If the weather permits, you will have the opportunity to see and try kite-skiing, and even to optionally spend a night in an igloo!
Dave Jorgenson
Whitegold Adventures
adventure@whitegold.ca
866 994 2345
www.whitegold.ca/winter-trips